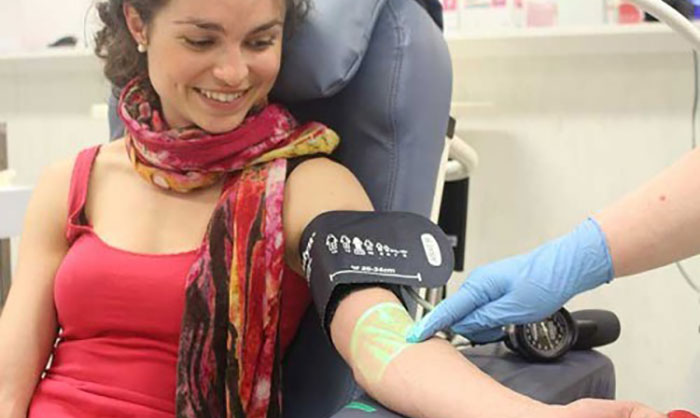 All of the small things make a huge difference in every day life I am really starting to believe more and more.
For example, with this slew of blood draws and tests I have done recently, what has made ALL the difference in the world is to have a CARING lab tech or nurse.
I usually go to the local lab to get my blood drawn, standing in a crowded hallway at 6:30am like a herd of cattle along with other grumpy and still sleepy fasting individuals, all of us determined to be FIRST when the doors open at 7am. The vibe is strange and nobody is talking, and when the door finally opens by a super sleep deprived and stressed out employee, things just go from strange to more bizarre very quickly.
There is all but shoving going on to get in the door, where the sign in is slower than molasses, and then we are herded to a waiting room to wait for what is usually another twenty minutes for our names to be called to go back to the blood drawing room.
They bark out three or four patient's names, to which we all fumble down the crammed hallway and take a VERY uncomfortable and ugly chair that makes a hospital seem friendly.
I am usually first, as I camp out when it's dark in the parking lot just so I have the best shot at getting out and having the rest of my day, as well as being able to eat before 11 am.
Every visit, it's a new employee, and I just pray I get someone with over two weeks' experience. I know both sides. Usually though quite unfortunately, it is a fairly new person who I proceed to tell I have the world's smallest veins and suggest the use of a butterfly needle, as it will save a LOT of time and make the whole thing easier on them and more comfortable for me. In fact I should have asked them for this!
Usually they ignore my advice and say they will decide, and usually just to make a point they decide to forego comfort. Last time it took literally over five minutes to get TWO vials of blood.
No words.
So, all this to say, I am never EVER a fan of getting my blood drawn.
Then a magical, sparkly day appeared last week from out of the clouds-a beautifully trained, loving and caring nurse who led me to a gorgeous room at a health center with pillows and leather recliners. And you guessed it-SHE ran for the butterfly needle the minute she caught one look at my veinless arm.
What sent me to this place was the referral from my naturopath, as the Quiksilver test for mercury I was having done required a blood portion, to which the regular lab won't do. I felt like I struck gold. I don't care that they charge for the draw extra than the lab…I will gladly pay it to have this great of an experience again.
All of this I found to be interesting, and I believe it was in the Amalgam Illness by Dr. Andrew Cutler who covered the importance of being comfortable and not stressed for these kinds of procedures-or ANY for that matter, as it's VERY important to feel comfortable and get the best results.
I believe it was him, but don't quote me as I am reading and absorbing SO much info on mercury these days. From what I recall though, he was saying that it would even be worth interviewing people in this field to make sure they are a good fit and make you feel comfortable. I don't remember if he was talking about an IV therapist or a nurse or lab tech, but I think they all are equally important.
WHY put ourselves through hellish ordeals when lovely, alternative options are available in most cases? I value it SO much so, that even though I by no means made of money, I will scrounge up the extra scratch to have a better situation all around.
This has made all the difference about how I even THINK about having my next draw, which will be next week. The stress and unnecessary silliness of it all can be alleviated by plan b. SO thankful for something that makes life just that much better!

Kate Stellman is a health show host, blogger, writer, beach lover, book reading fanatic who loves crafting, cuddling her dachshund, and values long and meaningful conversations over green juices and tea!

Latest posts by Kate Stellman (see all)