Podcast: Play in new window | Download (Duration: 59:49 — 54.8MB) | Embed
Subscribe: Apple Podcasts | Google Podcasts | Spotify | Android | iHeartRadio | | More
[include file=get-in-itunes.html]

Lucas Rockwood (affiliate link) stopped by to talk about Gravity Yoga and his website, Yoga Body Naturals. We got to learn all the different styles of yoga and we had a great time talking about how yoga and increased flexibility can help balance the body. He called in from Spain and we used Skype for our connection. There were a couple technical difficulties but we've ironed all of them out.

If you're curious about yoga and are considering it as a practice, which I highly encourage anybody to do no matter what their age, weight or level of health, then you'll definitely want to hear Lucas's unique take on how yoga can benefit you.

After you listen, comment below and tell us what you think!

We discuss the following and so much more:

Why yoga is so healing to the body
The Benefits of yoga
The different yoga styles – how to choose
What diet is good for yoga
How yoga helps other areas of life
Can people start at any age
How can yoga slow the aging process
What are some foods that make you stiff or flexible?
What's the role of calcium buildup in joints to being flexible?
Does yoga make joints and tendons more flexible or just the muscles
What is gravity yoga
Does running cause stiffness
How long does it take each day?
How yoga compares with the 5 Rites and Qigong (Chi-Gong)?
And much more!

Lucas Rockwood teaches how to double your flexibility in less than 4 weeks
– Click to tweet this!

–

Get Notified:
[ois skin="Show Page2″]

–

Please Subscribe:

–

Other Shows:
[include file=show-links.html] | All Shows With This Guest

–

Show Date:
9/19/2012

–

Show Guest:
Lucas Rockwood

–

Guest Info:
LUCAS ROCKWOOD is a yoga teacher and teacher trainer. Originally from the United States, Lucas now lives between Spain and Thailand where he conducts professional yoga teacher training courses and yoga retreats. Lucas is a nutritional coach who studied under Gabriel Cousens, M.D. in Arizona; and as a yoga teacher, he has studied with some of the world's greatest teachers including: Sri K. Pattabhi Jois, Sharath Rangaswamy, Alex Medin, Paul Dallaghan, and Eddie Stern. Lucas is known for his passion for nutrition, health, and transformation.

–

Topic:
Gravity Yoga, Stretching, Exercise & Raw Food

–

Guest Website(s):
http://www.yogabodynaturals.com (affiliate link)

(Guest Social Links Below. Please Follow Them!)

–

Guest Product(s):

–

Items Mentioned:
http://www.treeoflife.nu
Longevity Now by David Wolfe (affiliate link)

–

Connect:
Discuss This Episode With Others

–

Duration/Size:
00:59:49 / 54.76 MB

–

Rate:
Rate This Guest!

–

Rate This Show:
[ratings]

–

Download:
Right Click To Download

–

Donate:
(Opens in a new window – Every bit helps us to keep delivering even better shows that help you heal & thrive!)

–

Support & Share 🙂
Copy and paste the following HTML code into any web page. Or you can grab a badge!

–

Video Version:
Youtube Version (Opens in a new window) Youtube Time

–

Follow Us!:
Please consider ReTweeting the following update to share this episode…

–

Watch a very helpful video [video_lightbox_youtube video_id=kNTs_YgKivw width=640 height=480 anchor=tutorial] for this page.
–
Subscribe to iTunes or Leave a Review
Thank you so much for your support, and if you have yet to leave a rating or review, please leave me an honest one on iTunes by clicking here. It will help the show and its ranking in iTunes immensely! I appreciate it!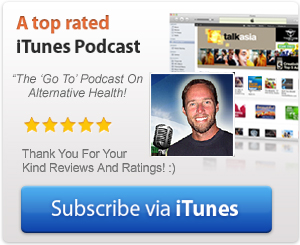 –
Podcast Transcript:
Thank you so much everybody for joining us on this show. We really appreciate it. Today, we have kind of a different show for you. We have Lucas Rockwood, who is the owner of Yogabody Naturals stopping in to talk about yoga, flexibility, exercise and all that kind of good stuff. So, this should be fun.
Today's date is Wednesday, September 19, 2012 and this is episode #10.
You can find it at extremehealthradio.com/10 and just to let you know, all of our shows are transcribed, so just give us a couple of weeks. Anything the guest says, or I say during a show, is searchable on our website. That's a really powerful feature, so take advantage of that. There are also show notes too, so if a guest mentions a book or a website, or anything like that, all of that will be on the show notes at extremehealthradio.com/10.
If you have any questions for me or the guest, you can email me at Justin@extremehealthradio.com or you can call and leave a message on our voicemail line, that we can play on the air, which is (949) 391-7363. Just wanted to let you know that this show is brought to you by the Vitamix Blender. This is a blender that my wife and I use every day, probably about three times a day actually. It's just a great machine. If you're ever going to buy one, please buy it through us and we'll get a little commission, and that will help keep us going. You can find it at extremehealthradio.com/vitamix.
Before we introduce our guest, I just want to talk a little bit about some of our upcoming guests and our show schedule. We have lots of great guests and typically we're doing shows right now on Mondays, Wednesdays and Fridays for you, and we have lots of great guests coming up. On Monday, Wednesdays and Fridays we typically do shows on health, but in the future, I would like to do Tuesdays and Thursdays on things like politics and finances and things like that. Stay tuned for that.
In October, we have Dr. Charles Partito, who is the creator of the ejuva cleanse. We have Nina Silver who does lots of great work with energy medicine, frequency technology and using rice machines to heal from diseases. We have Ramiel Nagel, who is the master of making sure you don't have any cavities or tooth decay, reversing tooth decay. We have Dr. Mark Sircus next month, who is a physician out of Brazil, doing some amazing things with sodium bicarbonate and cancer. We also have Amanda Love next month, who will be teaching us about fermented foods and how to make anything fermented and the benefits of fermented foods and bacteria and all that kind of good stuff. So, stay tuned to our show page and make sure to check that for upcoming guests.
Let me now introduce our guest. I am really excited today to have Lucas Rockwood on the show. He is a yoga teacher and teacher trainer. He is originally from the United States, but he now lives in Spain and Thailand. He conducts professional yoga teacher training courses and yoga retreats. He is also a nutritional coach who studied under Gabriel Cousens in Arizona. Gabriel Cousens runs The Tree of Life Healing Center in Patagonia, Arizona. He is a yoga teacher and has studied with some of the world's greatest teachers, including Sri K. Pattabhi Jois, Sharath Rangaswamy, Alex Medin, Paul Dallaghan, and Eddie Stern.
He is known for his passions for nutrition, health and transformation.
Thanks a lot Lucas for joining us today. We really appreciate that.
Lucas: I hear you Justin. Glad to be here.
Justin: So, you have studied with Gabriel Cousens?
Lucas: I got into raw food and raw plant based nutrition about a little over a decade ago, and yes, as a lot of people do, you kind of stumble upon something that works for you and take it as far as you can and for me it really lead to a whole life transformation. A big part of that was when I spent some time at a kind of crazy place called The Tree of Life in Arizona. There is a medical doctor there and one of the main medicines he uses is plant based food. That was a pretty amazing experience.
Justin: Wow, so now you are in Barcelona, or somewhere in Spain, right?
Lucas: Yes, I spend most of the year now in Spain and I still spend a lot of time in Thailand, where we do a lot of yoga events, primarily yoga teacher training courses. I'm really lucky to split my time between two beautiful places.
Justin: When you were in the United States, where did you live?
Lucas: I left the U.S about ten years ago and I lived all over the place, but I was a teenager in California and I spent about as long in New York. I have lived in many, many places, but New York and California are the closest things I have to home. But at this point in time, I spent my time wandering and traveling.
Justin: Nice. Did you get interested in moving abroad after you got involved with the raw food diet?
Lucas: I did. I guess for me, what happened is that I was in my early 20's and was trying to figure out what to do with my life, and, like a lot of people I got a corporate job and learned a lot of great things. It was really a good opportunity, all things considered, but I just couldn't really see where things were going and I discovered the raw food movement at the time was a really new thing, now it very mainstream and you can find stuff all over the place but back then it was very cutting edge and I felt like there was just a handful of us and we were kind of you know those crazy band of renegade bandits eating you know, coconuts and running around and doing yoga and stuff and one of the places kind of on the map for that community was Thailand and among other things because there was really great produce and good weather and good sunshine and so, yeah I went, I was working, I was running a big restaurant in New York and I just decided I'd take a six month sabbatical and go to Thailand, just something I'd never done before and I got there and I just never really left.
I was there about seven years and one thing led to another and I ended up opening a restaurant and a yoga studio and starting a company, we're talking about Yoga By Naturals and doing teacher trainings and married a Spanish woman and ended up living in Barcelona and splitting my life between here and Thailand.
Justin: Wow, that's amazing. I know a lot of raw food people and other people who are interested in health are now living in Ecuador in Central America. Have you noticed in Spain if there are better health freedoms out there?
Lucas: No, Spain is kind of a nightmare when it comes to health. They have social health care, which sounds really great, but of course the system is not so great when ever anything is public it's never the greatest thing, but at least it's available. In terms of availability of natural foods, the availability of nutritional supplements and basic vitamins is really crude. For example, you can't buy Vitamin-D, it's not available in Spain in the pharmacy. It's just bizarre. It's probably one of the top 5 vitamins people take, and you can't find it in a pharmacy.
But, in Asia, especially Thailand, has become a huge health destination. So even 25% of travelers going to Thailand, go there for health reasons. Maybe they want to get heart surgery, maybe they want to get cosmetic dental work, maybe they want to get treatment for cancer and all kinds of things. South East Asia has really become a hub for that, because it is a lot more affordable and the hospitals are more comfortable. It's also a nice place to end up.
Justin: That's interesting. For those of you who don't know, Lucas's website is yogabodynaturals.com and that will be linked up to this show page. So Lucas, you have been doing yoga now since you started the raw food diet. Is that kind of correct?
Lucas: Yes, I started working in New York during the .com era and it was very easy to get work and things. I had a corporate job and worked on lower Broadway. It was nothing amazing but I had a good job and I was happy as these things go. But I was kind of lost as to what I was going to do and I stumbled into a career I hadn't really chosen. One thing led to another and I had put on a bunch of weight and got into drugs and alcohol, just all of these vices that people pick up. One day, I stumbled into a yoga class and it really just kicked my ass. Yes, that was over 10 years ago, and from that day, I probably practiced yoga 300 days a year and a lot of years it was 360 days and I never really stopped.
I just got hooked. When I first got into it, my whole life changed so fast I lost 41 lbs in a span of about six weeks. My clothes were hanging off me and I literally had to change my entire wardrobe, as none of my clothes fit me anymore. I ran into my boss on the street and she didn't recognize me. She literally walked right by me. All this happened so quickly. For me, it was just really exciting, to see how quickly you can transform your life. I always say that there are three big areas in life that we're working on, it's usually health, wealth and relationships.
Out of those three, the reason I like to work in the health field, and why I get so excited about health is because it's accessible to everybody and the results are really, really fast. Literally, in six weeks, I had a different life. I don't know of ways to do that with your wealth or with your relationships. I think those take more time. So, I just find that over the three big areas where I was focusing on in life it's really an exciting area where you can go and help people make changes now as a teacher and help people become instructors. It's a really rewarding path for me.
Justin: Yes, that's great. We had Philip McCluskey on last week and, as you probably know, he lost over 200 lbs on the raw food diet, and, like you said, stuff like this can happen overnight. Are you still doing 100% raw or what is your diet? There is a big connection, as you say on your website, between diet and flexibility. Do you still do mainly raw, or what is your nutritional program.
Lucas: You know, what happens with food is, food become your religion. The truth is, almost everything becomes your religion if you're not careful. There are wonderful things about religion, which is that there is a structure and you have a protocol and you have a community. There are also very negative things about religion, and that is you stop thinking and become a mindless zombie, especially these days when kind of the traditional religious structures have really broken down in a lot of the western countries.
I find that people are picking up these really weird things and turning them into religion, whether it's raw food or cross fed or Paleo lifestyle or whatever it is everybody has got their thing and it's awesome to see people so connected but it quickly turns into dog months, so for me the raw thing was a total cult and I was fully in it and I was teaching in it and I was, you know I was proselytizing recruiting people for a couple of years.
I ended up setting up a couple of restaurants and doing all kinds of stuff and it was really positive work, all of it was, but there just came a moment when realized that it went way beyond what I was really looking for.
My goal is just to feel great, help people change their lives and I realized it was turning into this cult and people were looking to me for all kinds of things that were totally not appropriate things to be looking to a 25 year old kid for so I kind of backed out of the whole craziness of the scene and have always just kind of stayed, I've always been a plant based guy for 10 years, I don't eat meat and I don't eat any dairy or anything like that but I try to avoid the labels and I don't like the raw food label and I don't like the vegetarian label, it just ends up becoming this think that becomes more negative than positive and people talking more about what they don't eat instead what they do eat and so these days I eat plants, I eat all kinds of plants, in my house I think we eat about 40 or 50 kilos of produce a week, it's kind of ridiculous that your local farmers are coming and bringing us these boxes and we juice and we do all kinds of things. My diet is always changing but it's always tons and tons of raw food.
I don't really measure and I don't really keep track of percentages, but you it just depends on where I am to and the time of the year, like when I am in Thailand I might eat 80, 90, 100 percent raw for weeks at a time without noticing it and then here in the winter in Spain I might be eating 20 percent raw for a month or two. I just find that it's really kind of this thing where people think there's the percentage has something to do with it and it really doesn't.
For some people if they just eat 10 percent raw they're going to fantastic, for other people maybe they need to eat, like me I need to eat really a lot of raw food or I feel pretty lousy. But there's no real rule and everybody's body is different in different times of the year and different stages of life as well, so.
Justin: Right. I've noticed the same thing. When I first started, I started eating 100 percent in raw from 2003 to 2010 I think, and then I kind of branched off and doing so other things now but, you're right it really turns into a really dogmatic thing. So I wanted to ask you, or just mention, it's great isn't these days, these times where you can do something like what you're doing where you're you've created an amazing website and you've got all kinds of resources and products on there, physical products and digital products and it's just so cool, because people like you and me were alive 50 ago the resources would be so few for us to be able to do these types of things.
Talk a little bit about your business and how fulfilling it's been to start your own business and to maybe encourage people to kind of get out of the corporate life like you did and do some of the same things.
Lucas: Yeah, you know interesting, one of the things people are most interested in when they talk to me is my work lifestyle because it's so unconventional. I've worked in multiple countries and I've done all these things and people automatically assume that I came from some privilege background or that I have great education or that I'm super bright and the truth is none of those things are true.
You know, I failed kindergarten, dropped out of college, I was bankrupted, I mean everything you can imagine, I mean, I think the best thing I had going for me is common sense, but more than anything just a real passion for finding my way in life. But the greatest think that I find right now, and it's really the advent of the internet and the freedom of information and now what we're looking at is how the freedom of borders where it doesn't so much where you live it's kind of what you're doing and I find that, you know, it's just such a blessing for a guy like me, because I'm really a yoga bum, that's what I am, I'm a raw food yoga bum and if it wasn't for the day and age I was luckiest enough to born in I'd be totally broke and I wouldn't be able to support my family, there's no question about it, even just 10 years earlier I don't think I would been able to do what I'm able to do now.
And what I'm able to do now is not like, you know, buy big white houses on the hills and drive Mercedes Benz or anything like that, but what I'm able to do is create a really large company and create a real positive work experience for tons of people in multiple countries, you know I'm able to employ, I'm able to create yoga instructors able to move money in a real positive direction that makes me feel really happy, I get to send my kids to good schools and you know, eat great food and all these kinds of what I call kind natural luxuries that are available again to people who are willing to kind of do the hard work but they key thing I always tell people is you don't make money, you earn money and it's really, you really do, everyone I know who's a top performer they really work for it and I'm no exception.
I work all the time and I love my work but it's non-stop and it's really just like when I first started yoga teaching, it's just service and the more you get the service mind set the more you realize that you're here, if you want the earth to do your bidding you really have to serve her and that's what you have to do all the time, everyday when you get up you've got to think, how can I make my tribe happy, and whether your tribe is a group of cross fit people, whether you tribe is a group of investment bankers, whether your tribe is a yoga group or whatever it is, how can I serve them how can I help them and usually we're talking about them in those three mains areas we mentioned before, but we you get in that service mentality and start to put yourself last, which is really counter intuitive for most entrepreneurs, they tend to put themselves first, but soon as you put yourself last, it's amazing how things start to flow and I wouldn't say it's easy but things do flow and they flow really naturally.
Justin: Yeah, that's been kind of the story with what I've been able to here with extreme health radio, currently I still have employment on the side but kind of migrating more and more into this show and it's been such a blessing to be able to wake up and to think about what guests we're going to have on and how to serve people and you know, it really blows me away that any other time but now we wouldn't be able to do what we do and it's such an awesome thing with technology and building a community and a following and it's just been so much fun I'm sure you've had so much fun since you escaped the corporate lifestyle right?
Lucas: For sure, for sure and you know, I'm always a big advocate too of people just finding what works for them because I find that a lot of people have these corporate gigs that are fantastic and there's no reason they need to leave you know, a lot of people now I find are, have corporate jobs and they.
Like I met a woman the other day who lives in rural Vermont and she has a total corporate executive job that she managed to swing that, and she managed to work virtually and goes in once a week or whatever, sorry once a month for five days or whatever it is an so it's not so much like you've got be an entrepreneur because that's really a different kind of wiring then most people have, but really just kind of taking control of your life and your life is service and then the possibilities are really limitless and a lot of people don't need to do what I did a run away to Asia, a lot of them can do it right where they are right now and often times a lot easier than you think.
Justin: Right. And when we come back I want to talk a little bit more about your website and yoga body naturals and all of that good stuff, so after this break we'll right back with Lucas Rockwood.
All right, we're back with Lucas Rockwood from yogabodynaturals.com and before the break we were talking about some of his things that he's got going on with his business and his website, and so Lucas for some people out there who are listening, you know a lot of people are interested in yoga but not a lot of people are jumping into the bandwagon full bore, so what are some of the benefits of yoga and becoming more flexible, and what are some of the benefits of adopting this practice?
Lucas: I guess for me the really exciting thing about a yoga practice is that it's, I think of it like an asset right, it's like buying a home, you own the home. If you learn how to do yoga it's an asset and you can take it with you the same way you can go skiing if you learn how to ski, the same way you ride a bike and the real benefit of it is you know it's fitness, it's damage control, it's stress relief and you don't need anything, and so there's many fantastic fitness programs out there just ridiculous.
I mean you know of course if you, drag tires around your local city for 90 minutes everyday for the next month you're going to lose some weight, I mean it's kind of a given, and I love that stuff and I love exercising and fitness and all kinds different stuff but the reality is that most of us, at some period of our life, whether it's when you have the kids, or when you're traveling for work whatever it is you're going to get in some period of your life where you're not going anywhere, you're not going to the gym, you're not going to the fitness class, you've got no personal trainer, nothing and so what do you do then? And a yoga practice is really, really, really comprehensive holistic way to give your self a mind body workout basically, and you can do it at home and it's just so self empowering in a way that most fitness programs are not.
Most fitness programs you're either doing it or you not doing it, you're on or you're off, you've got the, you did the 7 o'clock spinning class or you missed it. With yoga once you really spend about a year just learning the fundamentals and understanding how the practice works it really is something you can take with you.
And for me, that's why I get really excited. I get really excited when people have the tools that they need to relieve stress after a busy day at work, or they have the tools that they need to relieve their back pain by doing some simple stretches before bed, or they have the tools they need to do a practice that's so strong and athletic that it gives them the same buzz that they use to get from running but maybe they can't run anymore because they've got shin splints or they've got tendinitis or they've got knee problems or whatever it is, so that's for me what is really exciting about this life long practice, that it's really, really sustainable, it's something you can do for your entire life and it's portable, you can take it with you and it doesn't necessarily need to be complicated at all.
Justin: Right, and you don't need, if you're going to go traveling you don't need weights you just need a yoga mat you know, you don't really need to bring much equipment. You know, someone was saying recently that yoga enhances everything else but everything else can't enhance yoga is that, kind of a thing where because, you know, if you're, if you are you know, a football player and we're looking to pack on a bunch of pounds you know, training in the gym is not going to help your yoga, but yoga helps just about everything else you do, right?
Lucas: Sure. I mean you know the way, the way to look at it is basically you have ying activities and yang activities so like, you know, bench pressing, lifting weights, all these kinds of things would be considered a like a yang activity, like a very strong activity, where as a ying practice which would be ying energies are slower and calming and cooling, those are going to be kind of the you know, it's the X and the Y's, so they're balancing each other out, the positive and the negative, and so, in some ways it's true you know, you know almost all athletics tend to be yang in nature, meaning they're muscle building and not muscle shortening, not muscle lengthening.
In that sense, it's true that yoga practice compliments almost physical practice really, really well. Rock climbers get fanatical about yoga, golfers get crazy about yoga, its because it can really balance out, which tends to lead to muscle imbalances. So, any time you're doing anything that really strength building, whether it's lifting weights or doing an asymmetrical swing with a golf club, all of these things lead to muscle imbalances, which eventually, almost always, lead to injury.
That's not to say you can't get hurt doing yoga, you can and people do, but at least it's working towards balance, whereas almost every other activity you're doing is, by nature, putting imbalanced. When you see the hill climbers with these calves the size of my thighs, it's a muscular imbalance. There's not necessarily anything wrong with that but it's important to recognize that most of what's happening when they guys have these massive biceps or these huge packs it's muscle imbalances and that's going to play out somewhere else in the body.
That pull is going to extract some of the energy system in the body, and yoga tries to at least bring you back into balance. We never end up getting balanced and a lot of people end up getting so into yoga that they use yoga in a way that takes them too out of balance. You know, the kind of stereotypical yoga guy walking down the street, barefoot with dreadlocks, kind of whispering at the stars. That's the other end of the spectrum.
On one end we got a frat boy who's all juiced up and bumping chest and then on the other end of the spectrum we've got the guy with dreadlocks who's smoking pot walking down the street. Really what we're trying to do is move towards balance. And the reality is we never get balanced and feel like life is just a game of bouncing the needles on one side or the other and you tend to spend more time in the middle, but, at the end of the day, that's what we're kind of looking for.
Justin: Right, so talk a little bit about the ying side of yoga and how it balances out the yang of working out. I've heard that. I've sure you've heard of the five rites and things like Chi Gong (QiGong) where these things, at least according to Chinese medicine, will help develop your Inner Chi which is, I guess, your life force, the amount of life force that you have So, is yoga one of those things as well?
Lucas: Sure, there is all kinds of different language that goes around this mind/body practices. This is from Eastern countries, people who talk about chi, they will talk about life force and they'll talk about prana a lot in yoga .
I think it is kind of a mistake to separate the two. I think, what happens is a lot of people who are doing Eastern practices, whether it's martial arts, or chi gong (QiGong), or tai chi or yoga, tend to kind of pooh pooh the Western practices, like body building, life endurance training. I really think that's a mistake, because there really is just two sides of the same coin, and they are equally valuable.
Just because they use fancy words like chi and prana that might sound new to us in the West, but it doesn't necessarily mean that it's more spiritual or anything like that. The thing that yoga does is that it's calming and cooling to your nervous system, in most cases, so with most practices that you're doing, and that would be the same if you're doing a chi gong or tai chi practice is that it's healing to your nervous system. So, almost everything else we do on our life, especially our modern life, is very, very agitating.
Whether it's television shows we watch, whether it's the traffic or the onslaught of emails, all that stuff is just like putting us in this like adrenal fry state, 24/7. So, especially right now, as you see this explosion of yoga. A lot of it is just a response to where we're at right now in our culture. So, who knows? Maybe 50 years from now, people will be really looped out and there might just be some guy throwing tires on the road and that's going to be what they need. They're going to need that juice and they're going to need the other side of the coin. But, forever reason right now, for the most part, people are all on an adrenal burnout, so any kind of mind/body practice, any kind if breathing, any kind of mindful meditation, any kind of yoga, any type of practice like that people generally fell benefits very quickly.
Justin: Right. If someone who has never done yoga before, I know there is a bunch of different styles, what kind of styles would you recommend, or what kind of styles would you promote.
Lucas: Sure, it's just figuring out what you connect with. There are a lot of different factors, how old you are, what your background is, what kind of people you like to hang around with, and the truth is, these days, there is a yoga class for everyone. A lot of people are scared to go to a yoga class because they think there's going to be a bunch of hippies.
There are those kinds of classes. Some people are scared to go to a yoga class because they think it's going to be really hard, and there are those kind of classes. Some people are scared because they think they're going to have to do meditation all the time, and there are those kind of classes. The key thing, I tell people, is to just try them all. Just go in and try, nobody will look at you funny, nobody will care.
In your average yoga studio, about 85% of people there are beginners at any given time, anywhere in the world. Just go, and give it a try. If you come from an athletic background and you really like a physical challenge, I usually recommend that people give hot yoga a try, give power yoga or ashtanga yoga a try. If you're looking at yoga more as a spiritual or meditative practice, you might look at something more gentle, like an integral yoga 2or a classic hatha or a sivananda style practice.
In general, the best thing to do is just take a bunch of classes, maybe have a yoga day, maybe Saturdays for a month, to try out all the studios in your local area. Just find something that you connect with. With fitness, people are always looking for some kind of excuse, and I just try to tell people to just get out there and do it, and find something that you connect with. You will at least get a little peace from going to the class.
Justin: Another thing too, is that a lot of people might be put off by yoga, or some people may be, because most of the classes are going to be very spiritual and focused in that direction. You know, in our culture, it's mainly a Christian culture here, and I think maybe some people might be put off by yoga. Really, you can find classes that aren't that way and you can sort of focus on other things when in a yoga class, so it doesn't have to be, necessarily, a thing that you're scared of, because it may be Eastern and maybe you're a Christian. Right?
Lucas: Yes, and it's an interesting point. The whole yoga movement, like you know, I get applicants every day, Indian students, wanting to come and study with us in Thailand, Western style yoga. So, it's interesting the way the whole movement has looped around. But, these days yoga classes are less and less religious, or spiritual based, and more and more fitness based and leaves the spirituality up to the individual, which is kind of my tendency. The reason that I tend that way is because I live a very international life and never even know what the person sitting next to me was raised with. If it's here, in the middle of Wisconsin, probably 90% of the people were raised Christian.
There are a few Jews around and there a few people from other countries, but if you're in downtown New York, who knows where those people are from or what their background is. Who know if they're going to be comfortable with Sanskrit words or Hindu or Sanskrit chants and things like that. I always encourage people to just be totally comfortable with who they are and call the studio and just say hey I'm a Christian, I'm a Jew, I'm a Muslim and I'm wondering if your studio is at all religious or if it's affiliated with any religious organizations, but I'm just looking for a place where I can learn meditation. I'm just looking for a place where I can come and do my own thing'.
There are so many studios now that are catering to that. I was nervous about that. When I first started practicing, it was a big deal for me. I just wanted to go to a place where people let me create my own space. Even when I studied meditation, I always studied outside of any kind of religious or spiritual tradition, just as practice itself. For me, I just feel like spirituality is not something that people have to decide on their own, and even the interpretation of what it means to be a Christian, a Jew or a Muslim, it's so different for each person. For me, I found a richness of experience when you bring people together and let them come to their own conclusion.
Justin: I completely agree. For me, I've been doing yoga now for probably about a year. I do the hot yoga, what's that called? I forget what it's called.
Lucas: There are a number of different styles. The Bikram is probably the most established brand, but there are other styles as well. We teach a style called Absolute Hot Yoga. There is also a style called Moksha Yoga, which is pretty popular in Canada, and then there's a fourth one called Barkan and then there's just freestyle hot yoga, which could be any number of different things.
Justin: Yeah, I've been doing the hot yoga and I only do it a couple of days a week, but the sweating that's involved, and I just can't get enough of it. If a day or week goes by when I don't go and can't stretch and get that lengthening, I feel it so quickly just by missing a day or a class. It's such an amazing thing you know, to be able to feel and be in tune with your body. I can't go a day or two without doing some kind of stretching. I think that's what so great about your gravity yoga, is that you can implement that no matter what the yoga practice you're currently involved with. Right?
Lucas: Yes, exactly. That is a big part of what we do with a lot of our home training. It's just trying to get people really manageable, really powerful practices, but really manageable practices. Another thing that turns people off about yoga is this whole long class idea. A lot of classes are 90 minutes long, for me I love that. For 10 years, every day, I have spent a couple of hours doing yoga, but for the average person it's too much.
They have other things that they want and need to be doing. At the end of the day, you know for me, it's really a total lifestyle. For most people, it's not a lifestyle, it's just part of their life and their lifestyle is about other things and they want to use yoga to supplement their life and to enhance their life.
So that's why I like to teach people really short powerful things to do at home. One of the more successful programs is a 15-minute per night, at home, program. That is specifically for deep stretching, so it's not for athleticism, it isn't for breathing, it's specifically about flexibility, so that people will overcome back pain, they will loosen up their hips, they will loosen locked up shoulders and that kind of thing.
Justin: I think, on your website, you have like a 7-day email program, where people can get, right, if they sign up right there on your website?
Lucas: Yes.
Justin: That's great. So, a while back I took a class called, I think it was called Yin Yoga, and it was basically designed for longer stretches where you hold them for about 5 minutes. I think you talk a lot about holding stretches for long periods of time, versus the more fitness style yoga, where you're kind of doing more of a flow. What are some of the benefits of holding a stretch for long periods of time?
Lucas: It's interesting you know, as a yoga teacher you see people come for different reasons, and a lot of people really come to yoga for the full body workout. I realize very quickly that there is a lot of people coming to my yoga class who actually would prefer to just go running and do some good stretches, or would prefer to, whatever it is that they're into, they actually came to yoga to overcome the issues they were getting in their other sports.
Like, I had a guy tennis player and he's got this elbow and he can't play enough tennis, so he's not a yoga for yoga, he's at yoga to learn how to use yoga to help his tennis game. So, this is where targeted really intense stretching can be very, very beneficial. Most of the classes are not about flexibility, but about a whole bunch of things. About breathing, about tension, about balance, a lot of strength and a lot of stamina. And then there's flexibility as well. When you add that into the mix of those five odd things it gets downplayed and what that means is that your results are going to take longer.
So, if you go every day, maybe in a year you will see some results, but most people don't go every day. Most people go just once a week, as on other days they are doing their other things, whether it's tennis or running. They go once a week for a year and they go into this class and are really just trying to fix the tennis elbow, or whatever it was, and then they kind of feel discouraged, as they are in this class and it's 90 minutes and they'd rather be at the tennis court or they'd rather be out doing their endurance racing or whatever it is.
So, this is why targeted stretching can really be beneficial. The other group is these hard core yoga people, who are really frustrated because one pose, or five poses, whatever it is, they really get stuck on. All hip openers are deadly or all the back bends are impossible, and so, what I found is that just talking to my teachers when I first got started, is I found that all the people I found who had really advanced practices all of them were doing these kind of secret practices, secret at home practices which usually involved the television or stop watch and lying out on the floor for a long time.
You know, people had all kinds of different poses, but what I found is that, without exception, the most flexible people I found were doing stuff at home to open up their flexibility. So, I started teaching that as a tool. Not necessarily using a hard core yoga student, but as a way that normal people can get really great fast results safely, without necessarily needing to go full on and become a hard core yoga student.
Justin: On your website, you have nutritional supplements for yoga and you also have a trapeze style swing system that people can get. Do you also have a book or a DVD, where people can just kind of follow along for however long they want, and learn the gravity yoga practice?
Lucas: Yes, there are a number of Eastern programs, something called gravity yoga, which we have been talking about, these long hold deep stretches and we have a book and audio and also a DVD. We also have a 'yoga for back care' program, which is the same idea, but probably geared to your back health and your core strength, specifically. Yes, we have all of the above. We have online training programs and we also do retreats and courses.
The whole idea is that we are just trying to open up yoga to everyone, so instead of becoming this elite thing that only people who have the membership and have the two hours a day that it takes them. This is something that anyone can do and everyone is welcome. Everyday, we're working with students anywhere from 20 years old all the way up to people in their 80's and stuff. So, it's really an exciting thing for us.
Justin: What I like about it too, is that a traditional yoga class is great. I go to one, but they can be costly and you have to drive there and there are all kinds of other things involved. You know, maybe someone is, like we were talking about earlier, maybe someone is shy, but with your products you can just get them and do it at home, and kind of bypass all of that, which is a great thing.
Lucas: Exactly, and the thing that I always say is that it's not either or it's just whatever works. Some people, some of my best students and some of our teacher trainers, started off just practicing at home to my 15-minute a day series and now they've turned into yoga teachers. The other way around, is that some people who used to be so into yoga and, for whatever reason, they had a falling out and they started doing something else or they lost interest, but they are still able to maintain all the benefits of their yoga practice by doing simple stuff at home. I always say 'whatever works'. Anything you're doing is awesome.
Justin: In your studies and your experience and things you have been exposed to, do you think that yoga can slow down the aging process for people?
Lucas: I don't know. It's an interesting thing you know, especially like in the raw food movement, it just turned into this whole longevity movement. I guess a lot of people who started it are getting older. I don't really know. In yoga the theory is that your age is determined by how many breaths you breathe, so that's the whole idea, you slow down. Your breath and you extend your life is the idea.
I don't know if that's really true, but I do know and I believe, with all I've learned, that nothing will kill you faster than stress, and almost any disease, whether it's heart disease or cancer, or whatever it is you can imagine, almost all of it is caused, if not exacerbated, by stress.
There is hardly anything you can find with better stress relieving properties than regular mind/body practice and yoga is one of them that is more accessible to people, but tai chi, chi gong, any kind of medication practice are really, really effective. So, there is no question in my mind that the stress relieving benefits can have real measurable life extending properties.
Justin: Right, and do you think that running causes people to become more stiff?
Lucas: It does for sure. Running, running is like one of the common questions that I get, and when I was in India studying there's a famous studio where all the ashtanga yogis go and my neighbor, our yogi teacher told him to stop riding a bike to the yoga studio because he said you know riding the bike it's tightening up your quads or whatever, and this is this is where like I just have to laugh out loud because people get crazy and this is again, where everything turns into religion, it's like a guy's so abscessed about his yoga practice that he doesn't want to ride a bike.
So, it's definitely true that running will make you tight and if you know any long time runners they get really stiff and have a lot of challenges. It doesn't have to be that way, but it tends to be that way just because it's a yang practice, it's a strengthening practice, it's a muscle shortening as opposed to lengthening practice. But all that said, I mean, the benefits of running are just fantastic and especially if you have a body that can handle it. I'm like a want to be runner my entire life, every couple of years I'll get the itch again and I'll go out, my new thing is trying to do bare foot and it worked for awhile and then again my heal problems and shin splints and things came back but if you're a runner and your body can handle it, I mean it's just so fantastic for you on so many levels, I mean if there's anything that's as cool as yoga to me it's people who can maintain a running practice for their entire life, it's just such a, again one of these tools that you can have any city, any where you are in the world just strap on your shoes.
But unfortunately, unlike yoga, the rate of injury is just sick, it's just ridiculously high, almost nobody makes it, I mean almost nobody can pull it off. So that's really the shame of it. But it definitely does make you stiff but it doesn't have to. The thing that I always recommend is whatever you're doing that's strength building weather it's resistance training, weather is running, whatever it is, block off at least 25 percent of that time to stretch, so if you run for an hour take a full 15 minutes of really, really targeted deep stretching, if you lift for an hour, same thing take at least 15 minutes for deep stretching.
Justin: So do you recommend, if people do some weight training or do some running that they stretch before, after or during?
Lucas: So the challenge is that the people use the word stretch kind of loosely and I do it myself which is kind of a mistake but basically what you see people doing before a run or before lifting weights is warming up and we call it stretching and it's kind of stretching but it's really just warming up. You could do "runners stretches", you could those everyday for the rest of your life and you wouldn't get anymore flexible, so there not actually stretches for flexibility there stretches not to get injured they're warmup stretches, they're stretches to take for joints through the full range of motion and they're very, very important and they're very valuable but they'll never make you flexible.
Nobody became flexible because they did a couple of toe dips before they did their run and nobody became super great back bends because they did their bench press they did a shoulder stretch. It's just not how it happens so you know, properly warming up is a fantastic idea, I think any trainer, any coach would recommend a good warmup.
When you do deep stretches it's really, really important that you do them after, and the reason it's important you do them after is because it's a total nervous system shift, meaning when you're, let's just say you're doing dead lifts or let's just say you have a kettle bell and you're doing whatever, let's say you're in kettle bell school box but you're telling your body their, your nervous system level is fire, strength, shorten, tighten, all these kinds of yang style words and as soon as you get into what I teach, which is for flexibility it's just the opposite, relax, let go, release.
This is why you put people in a pose and at minute five compared to minute one they're latterly moved inches and it's nervous system right there, their body didn't physically change in that first five minutes of practice, there nervous system released and so you don't want to put your body in a state where you're all loosey, goosey and then go do some sprints or go do some dead lifts, it's just not the right idea, certainly you want to do it the other way around. If you're going to do deep stretches they're why I usually recommend doing really deep stretches at the end of your day. You can do them the first thing in the morning but you just don't want to do them right before you go out running or something like that.
Justin: Right, and what I like about your program is that you have really a lot of emphasis on diet and nutrient and supplements and things like that. What have you found to be some of the worst things people could eat or consume maybe you know, that prevents people from becoming more flexible and what are some of the best nutritional supplements people could take or foods they could take to increase their flexibility?
Lucas: You know, it's interesting whenever, when I first started teaching this, you know food and flexibility, you just can't imagine the amount of crap that I got. Like just everybody just, you know, oh it's not true. can 't happen, impossible and you know and then here I am years later and it's like nobody ever questions at all is the question I get, what should I eat, what should I eat, so it's interesting how fast things shifted and what happened is people just, I don't know why, I mean every other sport, I don't care if it's a ballet dancer or a gymnast or a football player or a swimmer, they all have their foods they all do it they all have their foods they all do, you know so there's a reason why all the dancers smoke right, there's a reason why all the tri athletes have these massive pasta dinners, these are not necessarily healthy choices that they're making but they're doing it because they're daily activity requires it and there's a reason why serious body builders eat 40 chicken breasts a day, right? Again, not probably the best thing for your health but there's a reason why they do it and the same thing is true with yoga only the challenges are a lot of the traditional advice is backwards.
And so traditional advices you just eat bread and milk all day and unfortunately bread and milk lead to all kinds of problems, not the least of which is inflammation and weight gain and kind of the antithesis of what you want and yoga, if you look kind of the older old school yoga guys they all had these big pot bellies and they're mostly diabetic and insulin resistant and they've gotten all of these kinds of health problems from eating chapatis and yogurt their entire life in lieu of a bio diverse diet. In any case that's kind of a long intro but the really best thing what you just want to do is eat plants and just eat as many plants as you can and eat water based foods and plant based foods. I usually recommend that people either try to eat soy plant based or what I call reversed vegetarianism. Reversed vegetarianism is where you give up the dairy instead of giving up the meat.
It's kind of a new concept, and again, I get a lot of push backs from it. People say, oh. it's not ethical, and I say, well, you're picking one or the other and in my mind there is no difference, in terms of it being an ethical or environmental impact, I don't see a difference. If you're going to knock out one animal food or the other, to me there's no difference. I mean, obviously there's a difference if you go out and kill the animal, that might show up different in your mind. Anyway, that's what I recommend, plant based, either full vegetarianism where you're eating all plants, but it's really hard for most people to pull off. For whatever reason, it works great for me and I have no problems at all.
For some people, whether it's a social thing or if it's a body type thing, whatever it is. Some people they feel like animal, they need animal products, and in that case I recommend what I call reverse vegetarianism where they integrate some ideally wild caught, small game and eggs and things like this.
Justin: Okay, so what are your thoughts about coffee, because on your website I think you mentioned coffee a few times, and its role in flexibility. So, what have you learned about coffee effecting people's flexibility?
Lucas: Sure, it's another one of these kind of, it's the staple of the yoga diet that's really poor. The traditional yoga, if you go to traditional yoga chalet in India, before practice, everyone has a chi tea, which is like the equivalent of taking like an Americano or something. They will have a chi tea, go and do their practice and it's just a disaster.
First, you fry your adrenals with all the caffeine and then eat a bunch of inflammatory food after doing some serious physical activity. So, the thing about coffee is, in moderation, you know if you have a cup of coffee a day, or if you have a cup of tea a day, you're probably not going to have any health complications. Like with everything, you have to kind of choose your battles and what makes more sense for you. But these days, the consumption of caffeine has just gone crazy, and a lot of that has to do with places like Starbucks with gigantic servings. Here in Spain, it's kind of funny.
You go and order a coffee and it's a tiny, tiny amount. But, that's alright as that's all it is. People don't order five, they just order one. Then you go to Southern California and it's 20 ounce cups full of those little glasses. It really comes down to moderation. Really, anything in moderation won't cause any problems. But, what happens is, people really get carried away with caffeine and between the coffee and the diet sodas and things with caffeine in them, I find that most people, within a matter of a decade, work up to the point where they're having 5+ caffeinated beverages a day. The quickest thing that happens is that they get constipated because they're dehydrated and they just to feel kind of stiff, all of their joints because they're hydrated and that stiffness and that adrenal fatigue and the nervous system fry really just leads to a poor yoga practice. But, much more important than the yoga, it leads to poor health.
Justin: Does yoga do anything for increasing the flexibility of the tendons and joints, or is yoga as you teach the gravity yoga, does that lengthen the muscles only, or is it kind of a combination of both?
Lucas: It's a controversial thing. You know, you don't really want to lengthen your tendons and ligaments, because they're not like muscle tissue. Once they stretch, they don't go back. It's like taking a plastic shopping bag and kind of rolling it pulling it very hard until it got a little bit longer. That's what your tendons and ligaments are like, so you don't want to increase their flexibility, but you want to increase the mobility and the agility of your tendons and ligaments.
The only way to do that is to use them. So what you're doing is your putting them through a wider range of motion, but when you're talking about flexibility, what is flexibility, it's really truly the length of your connective tissues and so you're working on a muscular level, you're working on your fascia and you are working on the agility, the mobility of your tendons and your ligaments but you're not, you don't want to stretch out your tendons basically.
Justin: Okay and I know that David Wolfe has done a lot of work as far as calcium deposits and buildup in your joints and things like that, would doing a program like that along with your program, I think he's got the Longevity Now program which is, it aims to get rid of the bad calcium out of your body. Would that be a good program to do along with your program because it kind of all works together.
Lucas: Yes, it certainly could be. I'm not a, unfortunately what's happened with the raw food movement is it's turned into, like when I first got into it, it was like literally eating mangos and pineapples, that was like our thing who's got the pineapple who's got the salad, who's got the kale and now unfortunately it's turned into this crazy like cat and mouse chase you're either chasing, like it's the battle of the antioxidants or else the battle of the toxins. I'm trying to figure out which device in our home is giving us more cancer than the other device, or trying to figure out which, you know, which food is more powerful oxidants in blueberries, it just becomes this kind of weird head game and so I don't really know.
I mean they are very smart people and they're doing some great work but I don't really know in terms of, you know, the calcification thing, it's a wonderful theory I don't that there's that much science behind it but for sure again, like I've never met somebody who ever said I've been doing too much yoga so that's the thing I always say. I've never met somebody who said, man I had a great week last week but I should've skipped that class on Wednesday that's the one that just pushed me over the edge. What they say is, should've skipped the drinks, should've skipped the happy hour, shouldn't have worked as long, should have got more sleep.
But nobody every says, I skipped the yoga so weather you're trying to de-calcify your body, weather you're trying to de-stress ,weather you're trying get fit, there's a really good chance that that yoga practice is going to help with whatever you're doing.
Justin: Excellent. So talk a little bit about, I know we've got to wrap up here and you've got to get going. Thanks for spending some time with us today we really appreciate that. Talk a little bit about where you're going, what kind of things you're going to be doing in the future with your website and with your programs and things like that.
Lucas: Sure so yes we do, have a few different businesses and we do lots and lots of different things, lots and lots of different things, but our big thing is just having people just transform their health that's what we really do, just transform their healh and transform their life and so we do a lot work now with mind body weight loss, which is a whole other topic we could talk about a different day but having people lose massive amounts of weight and not necessarily through diet and exercise but just be dealing with mental emotional stresses in their lives so do a lot a lot of work there, we do a lot of certifying of teachers and so we certify people to be coaches and we certify people to become yoga teachers so we have yoga teachers now in 48 countries which is really exciting for me, and our goal moving forward is just to do a whole lot more of what we're doing now so a lot more publishing a lot more at home programs a lot more low cost or no cost programs and a lot more professional training programs for people who, you know guys like you and me who are just looking to really make a lifestyle they've become very interested in which is summing carnation of health, whatever that means to different people.
Justin: Right. Your website is really awesome I've going through it lately in the past few days, you've got videos on there for free, you've got audio podcasts for free, you've got books and training materials and obviously some pay courses but you've really been putting a lot of work into your website.
Lucas: Yeah, well glad you like it. We never stop I mean that's all can say, it's not all pretty and it's now all perfect but we never stop putting out stuff so.
Justin: Awesome. Al right would be, can you hang on after I close out the show?
Lucas: Sure.
Justin: Ok, thanks Lucas. Alright thank you for visiting us today and listening to this interview everybody, I really really appreciate it. If you would like to, if you've found value in this show please like us on Facebook and follow us on Twitter. That would help to grow this website and this community in following, so thank you very much everybody for listening and we'll catch you on the next show.