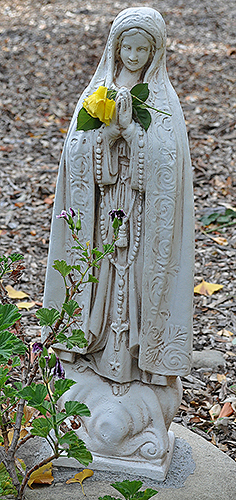 As a few of you know, a few weeks back I was so blessed to be able to have taken 3 days off of work completely to myself to take a much needed silent retreat in the gorgeous hills of Montecito, California, outside of Santa Barbara.
It all started a month and a half ago when the subject of a 'silent' or 'soul' retreat kept coming to my attention and I have learned that when things like that keep nagging me and rolling around in my brain I had better pay it due respect. So after just a few short days I began my search online for retreat centers and found what seemed to be my ideal perfect space, at least from what I could tell of pictures and past experiences of others that I had found online.
So I said farewell to Justin and Ms Maggie Brown and headed the 3 plus hour drive up the coast in search of some much needed rest for my soul.
Soul care is something this past year that I have been much more intentional about and as I look back upon this year I have to say-I feel I am making much needed changes and huge strides in that department.
The idea of 3 solid days though just to ME were enticing and beautiful. I am pleased to report that not only was the retreat center and grounds BEYOND what I had bargained for-my soul actually left different than it came.
I had the amazing opportunity to talk with my friend Pastor Nar before leaving town and he had encouraged me to try to go with little to no expectation in regards to what I was hoping to accomplish or have happen while away. I kept telling myself this the whole drive up there and from the time I drove away from my house to the time I pulled onto the retreat center campus, and I really do think by God's grace I actually arrived there with no particular mental or physical agenda for the coming 3 days ahead.
I have to say-3 days does not seem very daunting when you first reserve your time away or dream of it when the work days leading up to it seem to drag by…but the minute it arrived I actually felt a tad panicked at the thought of being alone in my own head for that long. I began to have a new sense of awe for those who do extended solitude, my sister and her husband both being 2 I can think of-who experienced both a 3 week solitude retreat a few years back…
I arrived to the most charming little hermitage nestled among 26 acres of orange groves, and to my delight I had the cottage all to myself. There were 3 rooms that are sometimes rented out by other soul journeyers and I was expecting this, but to my surprise it was just me. me and spirit.
God and I. Beautiful.
The next hours to come were spent without agenda. I napped if I felt like napping. I read when I wanted to read and didn't hold myself to finishing any book. I took 3 baths a day with fresh picked lavender from the property. I made myself fresh, organic meals and lingered with them long into the dark night. I fell asleep to the sound of owls. I woke to the sun streaming in my window.
There was a day I spent the entire morning on a hike in the Montecito hills completely free from work calls or distraction. I meditated. I prayed. I asked questions. I got answers. I faced unspoken fears and put them into writing and left them in the middle of a labyrinth, never to look back and return to.
What surprised me the most was the effect the labyrinth had on my soul. I had walked a few many many years earlier at church retreats and functions growing up-usually set up right outside of a church building or in a parking lot.
This experience however was completely mind blowing. Centered among giant Oak trees with panels of light streaming down upon my face, I felt from the moment I stepped upon the dirt-it was truly holy ground.
Many many had walked it before and will walk it again. All different stories. All sacred journeys. I experienced an almost trance-like state from the minute I took the first step until the time I returned myself to the orange groves back on my way to the hermitage.
Time stopped.
Instrumental music I had playing in my ears through my ipod created the perfect backdrop to this holy moment. There was no past. There was no future. There was no judgement. Just peace. Love. Comfort. Understanding. There was silence. And in the center there was glory. I left a changed person.
The night before I departed this amazing place I wrote down all the fears that I wanted to leave in the sacred circle the very next morning on my way back to my life. What I envisioned being a somewhat challenging task quickly appeared to be the exact opposite. After some pondering and thoughts about what to start writing-there were too many that my pen couldn't keep up. Things flowed out from me that I had no awareness of before.
Things that sounded ridiculous to fear rose to the surface and for the first time in my entire life I can honestly say that I did not censor my thoughts, writings or feelings at the risk of sounding stupid to my own self.
I found honesty.
I took the long and peaceful walk into the middle again the morning I left and I laid my page of fears into the middle alter where so many others had placed symbols and letters and candles as well. I left something and gained something as I took the step by step journey back out of the circle….
And just like the very nature of a circle, my journey continues…

Kate Stellman is a health show host, blogger, writer, beach lover, book reading fanatic who loves crafting, cuddling her dachshund, and values long and meaningful conversations over green juices and tea!

Latest posts by Kate Stellman (see all)